Koh Tao has everything you desire - and more!
Although a small island (no longer than 3 miles from north to south), it has an abundance of adventures to enjoy. Beautiful beaches, epic views, hiking, snorkeling / diving, getting your PADI, peaceful spaces, delicious food, nightlife, yoga, massages for dirt cheap, and more.
This was my personal favorite destination of ours in Thailand yet!
Allow me to explain why..
From the moment you step off the ferry, the tropical vibes brush your being. ~
Koh Tao is said to be one of the places where it rains least so even though we were there during the "rainy season", we were pleased to enjoy mostly sunny days!
In fact, I believe we were fortunate to be there during the rainy season as it's also a slower time for tourism which means less people, and better prices. With it being such a small island, I imagine it to be crowded and hectic during the high season. Almost too hectic to truly enjoy it (unless that's what you're interested in of course). Which leads me to why you should come here in the first place.
Top Things to Do in Koh Tao:
The not to miss activities in my opinion are -
Snorkeling at Koh Nang Yuan -
A nearby island just 15 minutes away, Koh Nang Yuan has mixed reviews, but we loved it!
Here's what you should know: it's a small connection of islands adjacent to Koh Tao. It's privately owned and therefore has some enforced "rules" that some may not appreciate.
1) The cost is 100 baht ($3 US) to get in
2) You're not allowed to bring in plastic water bottles or tupperware (for the environment they claim), and
3) You can not lay your towel on the sand.
The reasoning for these "rules" is said to be environmental which personally I support, however, I was very disappointed to see that there were plastic bottles thrown all around the island, along with many glass bottles from their bar with straws galore!
Straws are one of the least environmentally friendly items and especially near the ocean they can be extremely harmful to marine life so quite frankly I didn't buy into their environmental friendly crap. This line of bottles shown above could've been there for who knows how long.
Now that we got that out of the way though - let me fill you in on the greatness of this place.
My best advice is to plan ahead and wake up early for this adventure! Make sure to hydrate well the night before and morning of since you cant bring your own water and it can be pricey there. Have a heavy breakfast to keep you full through the afternoon and hide some snacks in a bag (we brought protein bars).
We planned a long-tail boat ride the day before and requested that we leave as early as possible. The island opens up to visitors at 10AM so we made sure we would be there just in time (I recommend being there a little earlier even - 9:45 if you can). After all, there's an epic viewpoint that awaits!
By being one of the first ones there, we were able to climb up to the viewpoint and enjoy a few minutes of taking pictures before the crowds rolled in.
You see, every day there are tons of tour groups that visit here. When you book a group tour, you end up coming with ALL these other people simultaneously. That's why we coordinated our own long tail which was easy and inexpensive! We roamed around the nearby hotels on Koh Tao to see who could help us arrange a personal long tail boat which is when we found Palm Leaf Resort who only charged $9/person - a great deal!!
Another bonus, I got to pay it with a credit card! May sound silly, but using a credit card for purchases is a huge convenience that helps me to travel. I get to save cash for other purchases and collect rewards through my card - overall a win win! More on that another time though..
Remember that epic viewpoint I've been talking about? Well, this is it..
My tip is to enjoy the viewpoint FIRST and then make your way down for snorkeling! There are beach chairs for rental on the island but honestly Giancarlo and I just found a rock to hide our things behind and were in the water the rest of our time there. The water is beautiful hues of blue and I saw one of my favorite childhood fish - the rainbow fish! Who else remembers that book? Haha. It felt like a childhood memory coming to life.
We scheduled our long tail boat back to Koh Tao for 2:30 which we followed up with lunch immediately after.
Overall, Koh Nang Yuan has it's up and downs, but I'd say it depends upon your perspective and level of preparedness. I hope the tips I shared help you to enjoy it as much as we did :)
Hike up to the John Suwan Viewpoint
Are you tired of the idea of amazing views yet? Yeah, me either!
The John Suwan Viewpoint is another top activity to enjoy in Koh Tao. Near the south end of the island, this is another place recommended to visit early or towards the end of the day to avoid extreme heat. There's a small fee of 50 baht to enter, but it is totally worth it. Be sure to wear good hiking shoes and bring water! The hike can be a little challenging but they've done a good job of placing ropes to help you along the way.
Just look at what awaits you…
Hiking back down is equally as much of an adventure! We took more time to enjoy the views of the path and take pictures. Honestly I don't think the pictures truly do it's beauty justice.
Around the way is also Freedom Beach which is highly spoken of but personally we weren't all that impressed. Do look into though and form a judgement of your own if you're going to be in that area.
Stroll around Sairee Beach
Around Koh Tao there are 23 beaches but this is one of the main ones and the longest. Along it's stretch are a variety of businesses such as restaurants and massage / wax spas for crazy cheap prices. My advice, take advantage!! Although traveling is said to be a vacation, it can still be strenuous on our body and mind - dedicate time to take care of you and treat-yo-self!
Sairee Beach is also a great place to enjoy the sunset. Find one of the several swings along the shore and fly!
Where to Stay
Arriving in Koh Tao can be a little overwhelming. There are taxi drivers and other businesses bombarding everyone fresh off the ferries at Mae Haad Pier, the main entrance and exit of the island. I stayed behind with our bags as Giancarlo ventured to find the pick up service from our hotel.
Travel Tip: A lot of Thailand hotels will offer some form of free pick up - make sure to email them at least 24 hours before your arrival so it can be arranged.
When Giancarlo returned, he directed us left from the pier over to a central meeting area where most of the car services seem to be. Along the path there were countless vendors of fruit, smoothies, other foods, tour companies, etc. This is basically one of the main areas of Koh Tao.
Once we were all together, the taxi brought us to our first hotel.
We mixed up our stay here with a "budget" location and later a luxury location. The budget hotel was Hillside Resort where we stayed in an ocean view bungalow for just $26 a night! (I'm still amazed by Thailand prices)
Although the room was small with only a bed and a TV we never used, had no door to the bathroom, no curtain for the shower, no bath amenities, the view in itself was worth it!
Now I should also mention, since this is literally a hillside resort (not only named one), it is an up and down hill journey to and from your room so I would really only recommend this hotel to people who are physically active and enjoy the outdoors.
It felt like a workout at times but Giancarlo and I loved it nonetheless.
And wait, there's more…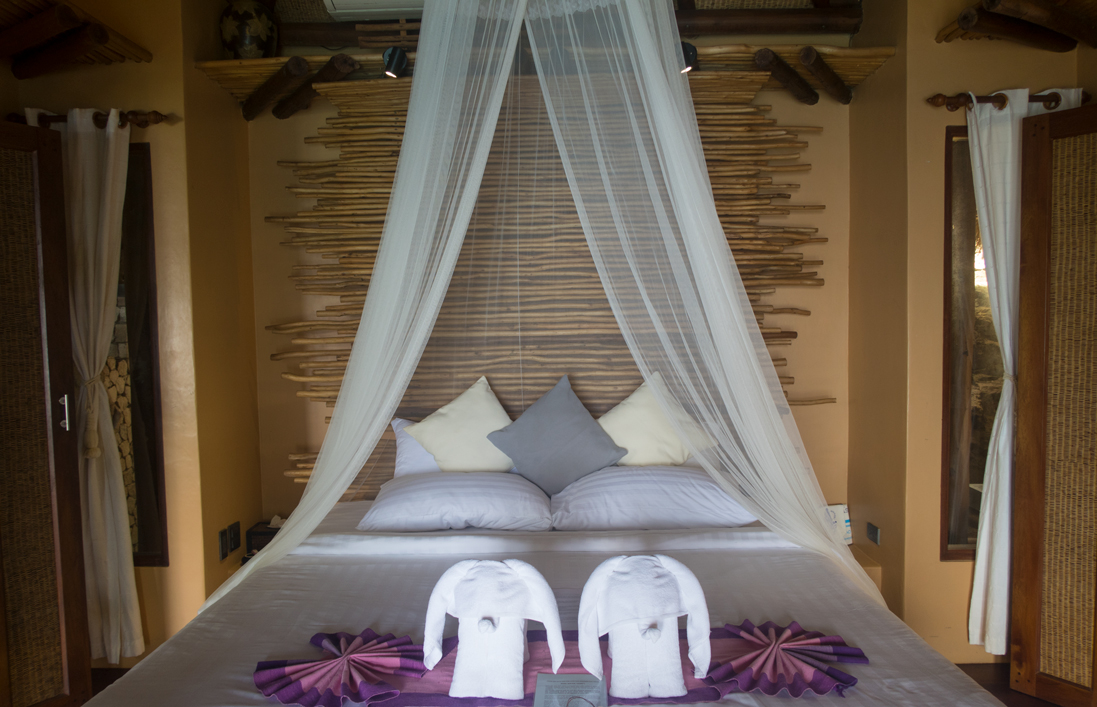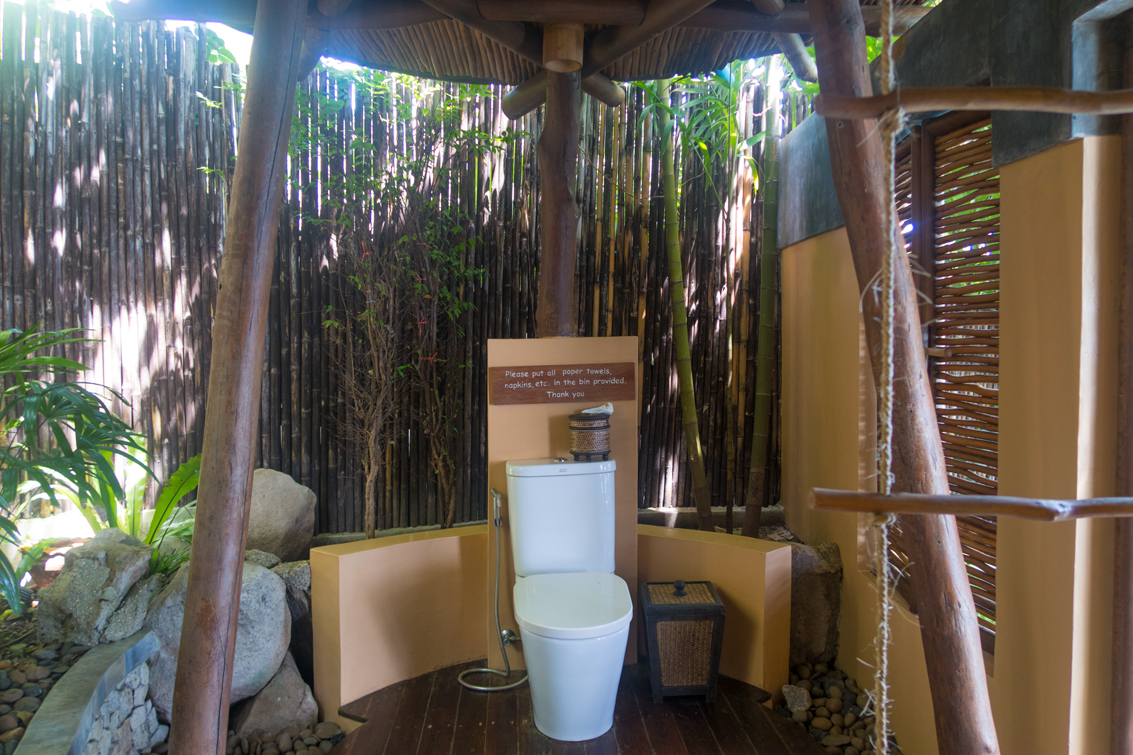 For the 2nd half of our time in Koh Tao, we merged over to View Point Resort. A divine mix of nature and luxury, View Point Resort set a strong example of what I one day envision as home goals! You can tell they put a lot of attention into the details and arranged each villa beautifully.
If you're going to stay here - splurge on a pool villa! They provide ocean views and are each uniquely epic!
Each morning we were served breakfast on the balcony which is free when you are in a pool villa. It was amazing to enjoy breakfast and the incredible view all at once.
View Point Resort is very romantic but could also easily be enjoyed amongst a group of friends as well.
Getting Around
Taxis are expensive here and usually have a set price so there is no bargaining.
This is probably one of the easier and safer places to ride a motorbike as long as you are being responsible and staying aware. In fact, Koh Tao is one of the few places I would even recommend renting a motorbike out of all the places we visited. (Also keep in mind that this recommendation stands for the slow season - busy season could be a different story).
As you may know, Thailand is infamous for bike accidents, especially amongst tourists. We rode with precaution and always wore our helmets. The other component to be aware of is scams when renting a bike. NEVER give someone your passport as security! That is the ultimate pass to get screwed over by these companies. We were lucky to find a guy renting bikes for just 200 baht ($6 US) a day and only requiring our drivers license as a deposit. He was just north of the Hillside Resort on the east side.
On the other side of the island, it was a little different for some reason. While staying at View Point Resort, we were closer to Chalok Baan Bay, where renting a bike is a bit more expensive. We walked all up and down the Chalok Baan area inquiring about scooter rentals and felt best about a place called Buddha View Travel. Other places were asking for ridiculous amounts of money as a deposit or our passports so beware.
The owner told us straight up that if we were looking for cheap, this wasn't the place - but if we were interested in insurance and peace of mind - then it's the right place.
24 hour rental costs 300-350 baht, and he accepts a 2000 baht deposit which is much less than the 6-8000 that other places requested. You can read more reviews about it here.
Where to Eat
I've been holding out on you guys. I have yet to mention about the amazingly delicious food that is here on Koh Tao!!! I'm talking some of our favorite from all of Thailand!
Here are some of the top places I recommend:
Vegetabowl
Our absolute favorite! I mean, just look at this decadent smoothie and all of the vibrant life in these bowls!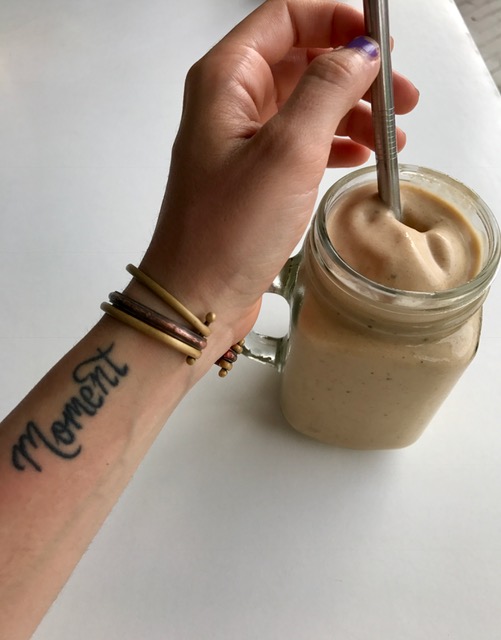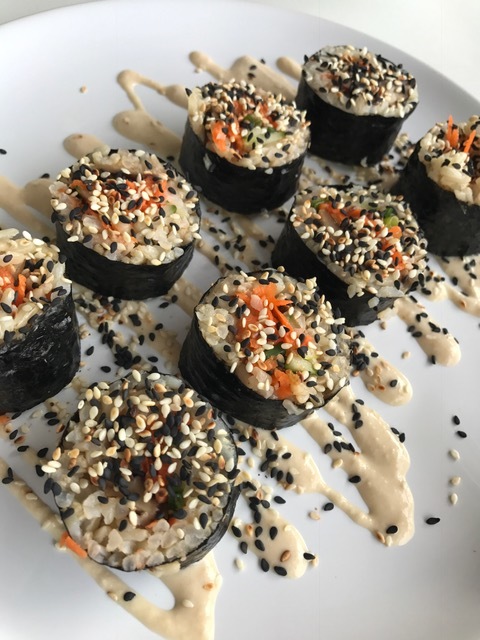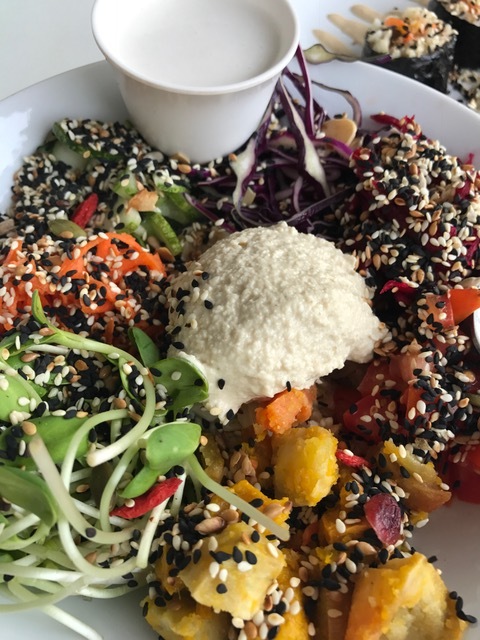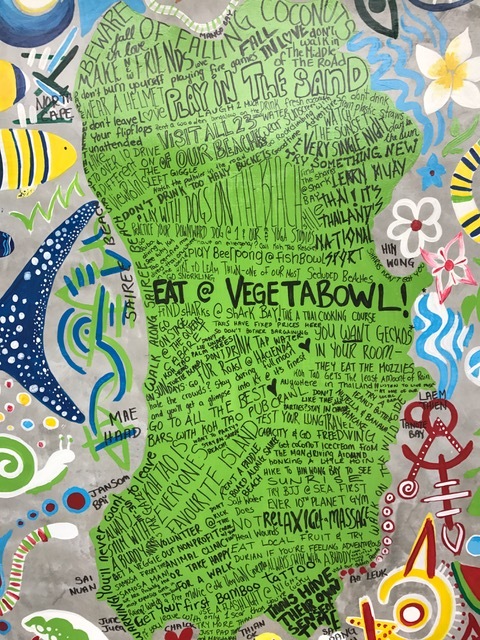 I'm not going to front, we came back here multiple times! It was our go-to for feel good food and a nice atmosphere too.
Coconut Monkey
Maybe a little overrated, but I enjoyed a much needed green juice and fruit bowl here. Grabbed some of their scrumptious snack bars to go also.
Shalimar Indian Restaurant
Funny story, as we circled around town looking for a restaurant that we never found - we came across this joint. I was stoked to find they have a veg section in their menu!
The food was really good and flavorful! If you like indian food - definitely check this place out!
Also, bonus - on Sundays the veg dishes are discounted :) and that just so happened to be when we went.
SouthBeach Cafe
This was our go-to place for cold coconuts during the day. We also enjoyed vegan pizza there ;p
It's not the South Beach I'm used to as a south Floridian, but it definitely had a feel good vibe. This was on the south side so we only ate here when we were staying at Viewpoint Resort. Right next to it is I Love Salad, which we didn't experience but heard good things about so if you're in that area, consider checking that out too.
In Summary
Let me just say, if you've read all this way.. I love you beyond words!!
Koh Tao is truly a special place. As you read, you can adventure around or just relax and soak in all the natural beauty.
If you have any specific questions, feel free to leave them in the comments or in general let me know what you think. Is this somewhere you'd like to visit?!
With love and gratitude… until next time.